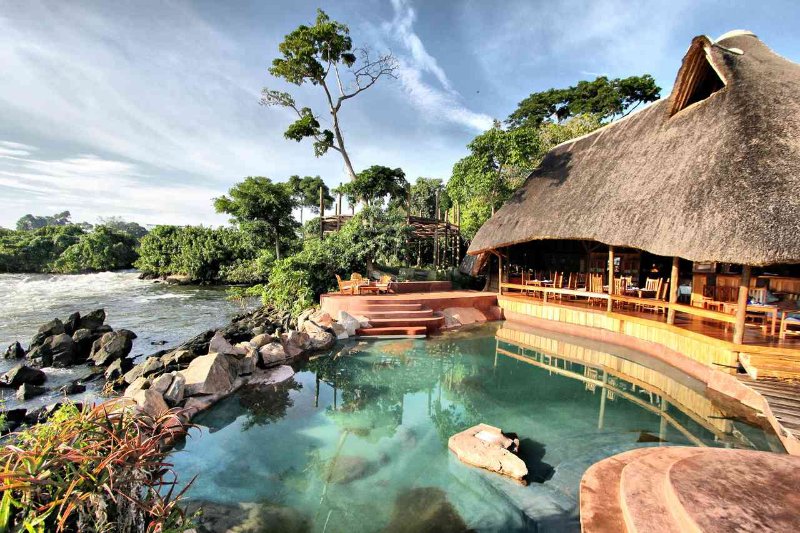 A challenge faced by many couples on deciding where to go on their honeymoon. Most of the well-known destinations, such as Cape Town, Dubai or Seychelles, are not only very expensive but require a lot of advance planning in acquiring travel visas and booking accommodation. Planning for a honeymoon does not need to be stressful or cost you a lot of money. On our honeymoon holiday we visited Uganda taking gorilla trekking tour and we have scouted the entire country and selected honeymoon destinations that could very well be Uganda's best kept secret from gorilla to the mentioned places of relaxing and doing more tourist activities in the area.
Wild Waters Lodge in Jinja nestled in a private and luxuriant rain forest on its own private island on the Mighty Nile, Wild waters Lodge offers the honeymooners an unforgettable stay. The expansive canvas covered traditionally thatched rooms each have private decks with bath tubs and wash sinks. Because of its location amidst the rapids of you will enjoy an unbelievable stay, cooled by the constant breeze from the racing rapids. It costs Residents: USD150, Non-residents: USD230 per person with a honeymoon package of half price for the bride while you enjoy river wildlife, bird watching, bungee jumping, white water rafting for all the packages.
Kyaninga Lodge in fort portal with the majestic Rwenzori mountain range as a backdrop and the calm waters of the lake below, the lodge offers a stunning and peaceful haven for its guests. Set only 12km north of Fort Portal town the lodge is beautifully situated at the rim of the small crater lake, Lake Kyaninga and only 1 hour from the Kibale National park, home to over 1000 chimpanzees and other wildlife. It costs USD340 per person per night. Offers a great opportunity to enjoy Swimming, fishing, sun downers, and nature trails in Kibale National Park, spa, lakeside walks, and tennis.
Ndali Lodge in fort portal 26km (or 1 hour's drive) south of Fort Portal town on the shores of the Crater Lake, Lake Nyinambuga,
Ndali Lodge was established in the 1992 on a former tea estate. Its position within easy reach of the Kibale Forest National Park and the Bigodi Wetlands Sanctuary in the great lakes region provides its guests with lots of activities that include bird and monkey watching, guided walks around the property and to the nearby Muhoma Falls at USD360 per person with a great opportunity to enjoy Bird watching, monkey watching, swimming, nature trails.
Rain Forest Lodge in Mabira Built using locally sourced materials, the lodge is stunningly beautiful and offers visitors a chance to appreciate the beauty and magnificence of the Mabira Forest Reserve. The Rain Forest Lodge exhibits the peace and calm one can expect in an equatorial hardwood rain forest costing USD330 per night with great chances to enjoy  Nature trails, swimming, bird and butterfly watching, yoga studio, mountain biking.
Pineapple Bay on Bulago Island Set only 45 minutes from the capital on the breathtakingly beautiful Bulago Island in Lake Victoria, Pineapple, one of the Wild places lodges, is truly a honeymooner's dream destination. White sandy beaches, fresh fruits, wide views over the lake are some of the many things you will enjoy when you visit. With acres of beautiful grounds to explore and minutes away from the Ngamba Chimpanzee Sanctuary, Tented Camp your stay will not only be relaxing but memorable too at USD188 per person (excludes boat transfers) enjoy relaxing walks, bird watching, line fishing, dazzling sunsets.
The Haven Lodge in Jinja offers tranquillity and a breath taking view of the first rapids of the majestic Nile. Located approximately 20km northwest of Jinja town, it is only a 2 hours' drive from Kampala City. With various facilities available that include camping grounds, family sized and luxury cottages you will be spoiled for choice at USD290 per night for honeymooners. Enjoy Fishing, bird watching, river canoeing, mountain biking, swimming.