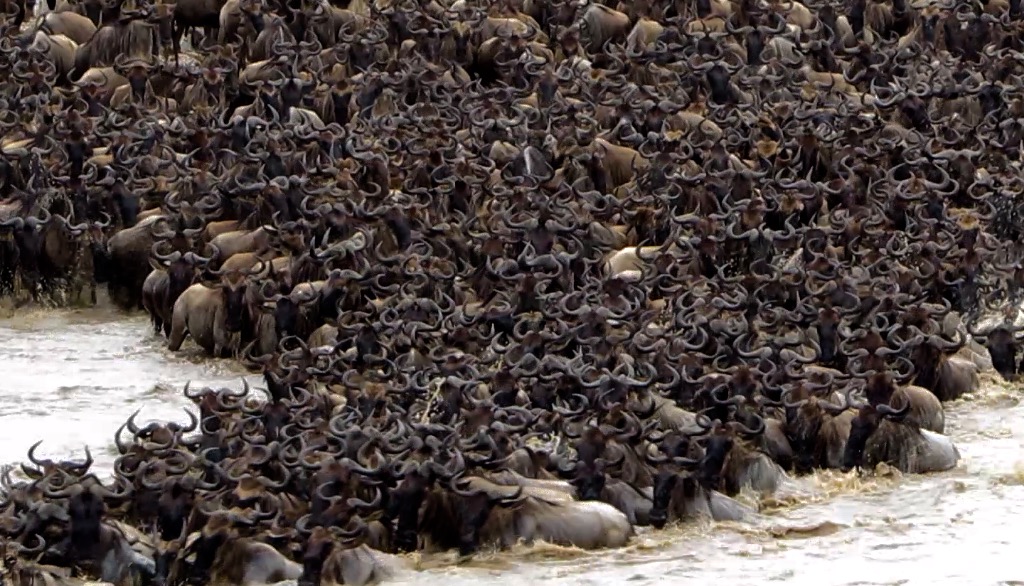 Kenya is a delightful country possessing many amazing places which a tourist can enjoy while on a visit to the country. The most amazing places in Kenya are absolutely its national parks and reserves such as;
MAASAI MARA NATIONAL RESERVE; the Reserve is not only Kenya's best destination for wildlife safaris but also among Africa's best.
The present wildlife species in this Reserve is a must that a tourist will have high chances of seeing all of them without even getting tired of trekking since the viewing of wildlife in the Reserve is really exceptional due to the high numbers of wildlife species which flood the Reserve and thus giving opportunities for tourists to explore them in plenty.
The Reserve is too large to accommodate a large number of wildlife and bird species and also there is a tight security keeping the species of the Reserve.
Every activity performed there is accompanied with a tour guide to give protection to the tourists and also help them to find a variety of wildlife species in the entire Reserve and you can have all this great experiences with Eco Tours in Kenya which works together with sites in Uganda, Tanzania, DR Congo and Rwanda.
The annual great migration of over 1.5 million Wildebeests from SERENGETI NATIONAL PARK in Tanzania to the Reserve is one of the things one should not miss.
This migration does not only involve Wildebeests but also other migrants such as Thomson's gazelles, Topis, Elands and Zebras which also move in high quantity thus tourists getting a memorable tour in the Reserve.
The best months for exploring this Reserve is definitely from July to November because it is the period when these wildlife species migrate to the Reserve from its twin national Park (SERENGETI) of which the two are permanently attached to each other.
The Reserve resides all Africa's big five such as; Lions, Buffaloes, Leopards, Elephants and Rhinos. Masai giraffes, cheetahs, hyenas, roan antelopes, bat-eared foxes, Grant's gazelles, impalas, duikers, Coke's hartebeests and over 470 bird species. Both Talek River and Masai River are the best habitants of Crocodiles and hippos in the Reserve.
AMBOSELI NATIONAL PARK; is also an amazing place in Kenya because you will be able to closely meet the free-ranging elephants.
It is one of Kenya's and Africa's best destinations for wildlife safari tours because it protects a wide range of wildlife species and being escorted by the professional Park rangers in the Park, tourists will be able to view a variety of animals.
The major habitants in the Park are; elephants, buffaloes, Impalas, cheetahs, spotted hyenas, zebras, Masai giraffes and Blue Wildebeests.
A view to Mountain Kilimanjaro is another spectacular and memorable thing while in the Park. Mountain Kilimanjaro found in Tanzania but since the Park is at the borders of Tanzania and Kenya. It provides views to this Mountain of which in all the free-standing Mountains in the world.
Kilimanjaro is the highest thus a visit to AMBOSELI NATIONAL PARK will offer you an opportunity to at least give a sight to this great Mountain.
Many activities are performed while in the Park such as; game viewing and game drives and others of which during game driving in the Park, a tourist is encouraged not to move out from the vehicle for his or her self defense from the wild animals in the Park except at designated destinations and always you are also emphasized not to harass the animals in any way.
Other national parks and reserves in Kenya include; SAMBURU NATIONAL RESERVE, TSAVO EAST & WEST NATIONAL PARK, NAIROBI NATIONAL PARK, LAKE NAKURU NATIONAL PARK, MERU NATIONAL PARK and many more.
Another amazing place in Kenya is Nairobi; Nairobi is Kenya's capital city allowing city tours of which during the Nairobi city tours, a traveler is most likely to discover Kenya's museums such as the Nairobi National Museum which is Kenya's National Museum and protects a large collection of Kenya's artifacts describing the rich heritage of Kenya through its history, culture and nature such as; the remains of a homo erectus who is popularly known as the Turkana boy are resided in the museum.
Still in Nairobi city tour you will also discover other museums in the city which include; Karen Blixen museum and the Nairobi gallery museum all giving you a great and memorable tour.
The NAIROBI NATIONAL PARK is situated just 7km from the centre of Nairobi thus visitors to the city will be able to visit its only constituted national park and enjoy a variety wildlife such as Rhinos, Zebras, Impalas, Rode horses, Giraffes, baboons, buffaloes, hippos, gazelles, cheetahs, leopards, Coke's hartebeests, Water bucks, lions and elands. Visitors to the Park will also view over 500 bird species including Ostriches and Vultures.
Mombasa is an amazing place too while in Kenya since most of Kenya's beaches are resided in this town thus travelers can go there for a holiday to relax and refresh their bodies after doing the tiresome activities in Kenya's Parks.
Some of the beaches situated in Mombasa include; Diani beach which is situated 30 km south of Mombasa, Kikambala beach located in the north of Mombasa and it is 30km away from the town, Bamburi beach situated 9km in the north of Mombasa, Shanzu beach which is also situated 16km away from the town, Nyali beach located 7km from Mombasa plus many other beaches.
From the beaches in Mombasa, a tourist will enjoy a lot of things from there such as boat cruises, water sports, swimming and many others.
A well prepared fresh fish at the beaches is another way to enjoy your holiday at any of the beaches since you will get to taste Kenya's fish species caught from its Lakes and Rivers plus other water catchments in Kenya.